UNITRONIC STAGE 1 : 297HP / 346LB-FT - FOR VOLKSWAGEN GTI MK7/MK7.5 2.0 TSI EA888 GEN 3 MQB
Availability: Ships within 1-2 days
SKU
UNISTAGE1GOLFGTIMK7/MK7.52.0TSIEA888GEN3MQB
*Track or Off-Road use only*
May not be available for all ECU IDs.
UNITRONIC STAGE 1 : 297HP / 346LB-FT
STOCK POWER: 210HP / 258LB-FT
FOR VOLKSWAGEN GTI MK7/MK7.5 2.0 TSI EA888 GEN 3 MQB
OCTANE
91 OCTANE / 95 RON GAS

Description
Performance Software Precisely Engineered for a completely stock car. 

Installation
Flashed directly through the (OBDII) Diagnostic port of your vehicle (10-15 minutes).

UniCONNECT+
This vehicle has added support through UniCONNECT+ which allows you to program your own vehicle right in your own garage.

Features
Engineered with Strict Industry Standards
Extensively Tested Under Various Driving Conditions
Factory Safety Limiters Retained
Advanced Torque Management by Gear (For maximum acceleration)
Engine Temperature Protection (Rev Limit based on Engine Coolant Temperature)
Optimized Responsiveness and Drivability
Optimized Smoothness and Driving Comfort
Power Delivery Perfectly Optimized Throughout the Power Band
Improved Fuel Efficiency
Ignition Timing Precisely Calibrated for Higher Octane Fuel
Speed Governor Removed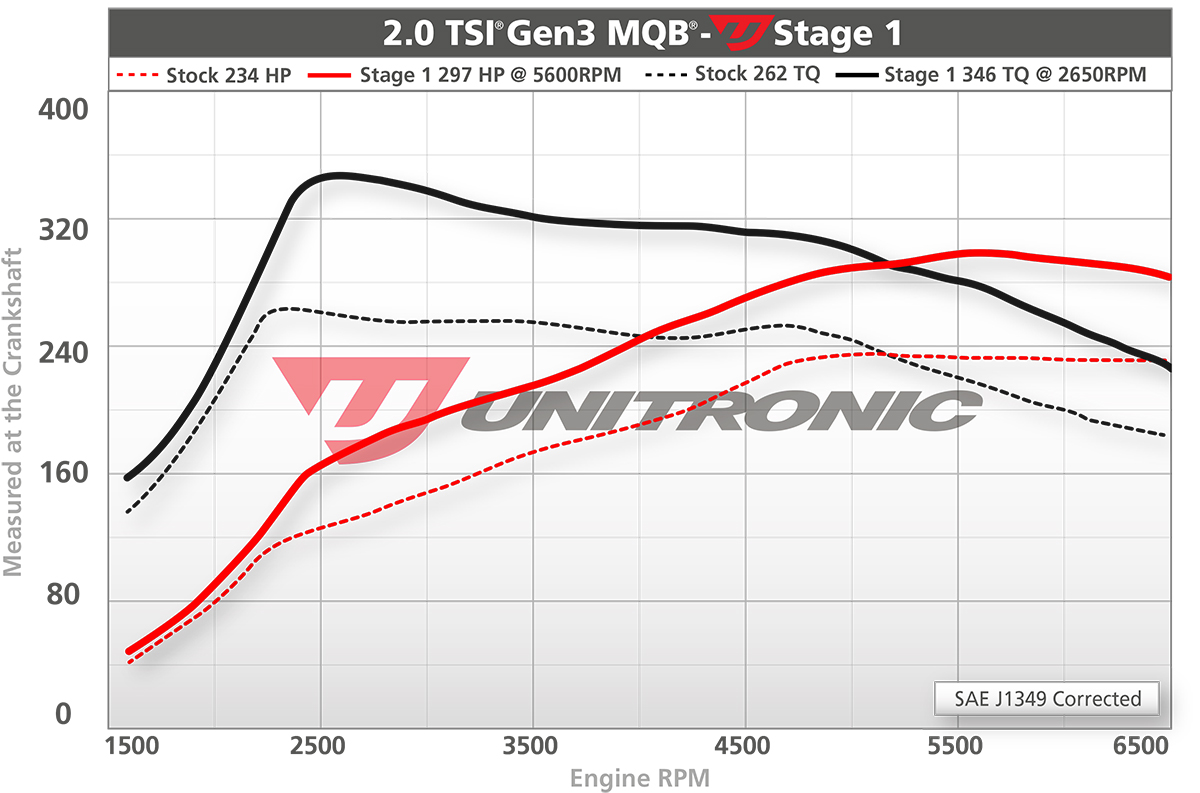 More Information

| | |
| --- | --- |
| Manufacturers | Unitronic |
| Stock Text | Ships within 1-2 days |
| Hide Ship Date? | Yes |